Go Back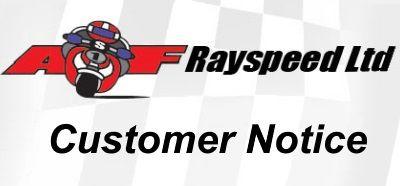 CUSTOMER NOTICE 18/12/2020
Please be aware, that the last courier posting day will be Wednesday 23rd. Courier service are backed up at the moment and there are many delays being experienced by courier companies.
If you are stuck for a last minute pressy, dont forget we are supporting Pickering Town FC with their raffle of a GP200 which we have donated and are selling tickets on their behalf. The tickets are £10.00 each (over 16's only) email RAFFLE to rayspeedstype@gmail.com
We also do vouchers that can be emailed to you for a last minute gift idea.
Stay safe
AF Rayspeed
Latest News
22-12-2020
Dear Customers, We are closing for Christmas on Thursday the 24th December and…
Read more >