AF Light Flywheel Information
Available to fit, GP, Li, SX, TV, GT
The History
The Original AF Ducati Light flywheel electronic kit was first available in 1987. It proved to be very popular. Unfortunatly due to a change in Ducati's business they stopped production of the kit in 1995. In the years after the value of second hand Light Flywheels has climbed to exaggerated heights. With some changing hands for upwards of £350 as owners were so reluctant to part with them. We have now had these flywheels remade. With an addition. They are now also available to fit the Li, SX, TV type crank as well as the GP.
The Technology
The Standard Indian Electronic Flywheel weighs 2650g. This weight gives the engine considerable momentum, aiding the smooth running of the engine. This increased inertia allows the engine to perform better under load so is better suited for people using their bike with a pillion or heavily loaded with camping equipment.
The AF Light Flywheel weighs 1380g. This reduction in rotating weight gives the engine quicker responce, providing improved acceleration with increased top speed. The difference is immediate and noticable even on a standard machine. In combination with a performance engine this can provide a significant edge.
This Light flywheel is especially suitable for use with high reving expansion systems such as Our NK Pipe, the PM Pipes and the JL Race Pipe.
The Kit
The AF Light Flywheel Electronic kit contains, Flywheel, Stator, CDI, Regulator, Junction box & cover, Dust cap & Circlip, Extra connections and full fitting instructions.
This kit is intended to be a direct replacement for the standard electronics on the Lambretta GP and any Li, SX, TV or GT. Offering improved performance and the increased reliability of Capacitor Discharge Ignition. The Flywheel is compatible with existing AF Electronic kits and Indian Electronic stator plates.
If your bike is fitted with an electronic kit already you will only need to purchase a Light Flywheel with dust cap and circlip.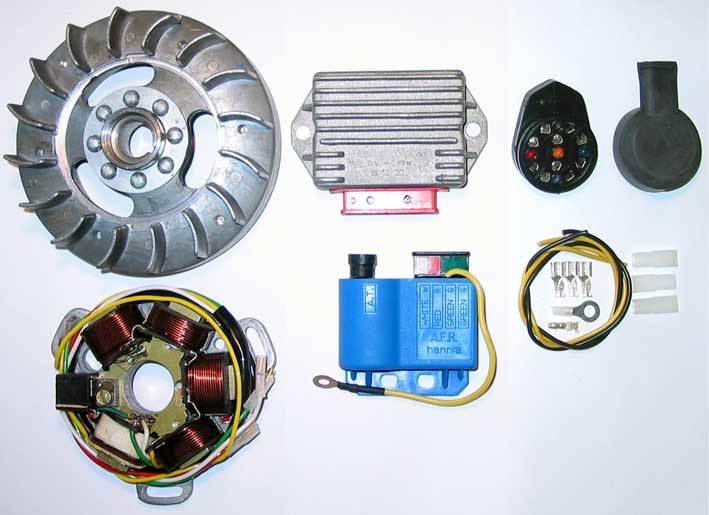 Fitting The Light Flywheel Kit to your Bike
If you have just bought a complete AF Light Flywheel kit and your coming to fit it now, the instructions are the same as for the standard electronic kit. Click on the following link to see them.
Click here for fitting instructions
N.B. when fitting this kit it is reccomended that you use shallow head bolts (as per the photo below) to hold the stator plate down and thin washers as per original. If these are not available it is a simple job with a hand file to reduce the head of standard bolts. Also ensure that your mag flange studs are fully home. This is to ensure clearance for the flywheel. Also note, if you have fitted more than one Mag Gasket, or a particularly thick Mag Gasket this will reduce the clearance for the flywheel.
Fitting the light fly wheel to an older stator plate
For those customers who have bought the flywheel alone and are planning to use it with an existing electronic kit.
It has come to our attension that although our Light flywheel will be a straight swop for most people currently running an electronic kit, some patten stators of indian origin will require a modification to the low tension coil as per the photo. This is due to the low tension coil being taller than standard leaving insufficient clearance between the low tension coil and the rivets of the rotor. This modification is easy to carry our if you have a good quality soldering gun and small file. Alternativly if you send your stator plate to us we can carry out this modification for £5 + P&P. If you have any problems feel free to give us a call on 01944 710693.